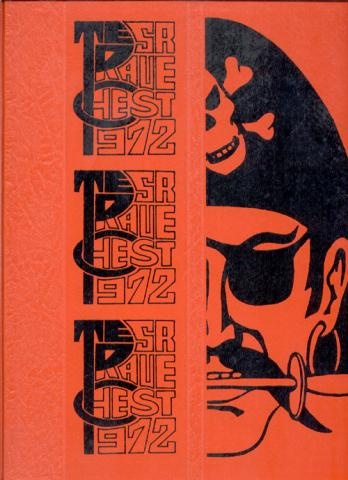 These Yearbooks are from all 3 High schools, Jr High schools and Elementary schools in the Putnam City School District that are for sale by way of a $20.00 donation. If you want to have them mailed to you, you will need to add $6.00 for postage for each book.
These have been donated by Putnam City Alumni throughout the years and are in excess of those in the Museum. They were donated so that the Museum would have this as a part of the source of funds to help maintain the Museum.These can be obtained at the Putnam City Museum during open hours Saturday 10 am to 2 pm and the special hours for the All School Reunion weekend.
These yearbooks were donated to the Museum and therefore the monetary donation is the only way to acquire them. The Putnam City Schools Museum is a US 501(c)(3) Non-profit Organization so this amount will be tax deductible.
You can use the Donate Button on the HOME page to pay for them with PayPal. You can also sent a check or money order to pay for them using the information on the the HOME page. BE SURE to put your name and address on your PayPal payment as well as a check or money order so we can mail them to you
04/10/2023 This list was last updated
OLD YEARBOOKS FOR SALE
ELEMENTARY SCHOOLS
APOLLO
1979
1980
1981 (2)
2017
CENTRAL ELEMENTARY
No date (3)
CENTRAL INTERMEDIATE
2006
CORONADO HEIGHTS
1964
1965
1970
1965
1980(2)
JAMES L. DENNIS
1986
1996 (3)
1998 (2)
2000 (2)
2002 (2)
2003
HARVEST HILLS
1983(2)
1985
1986(2)
2008
HILLDALE
2011
2016
KIRKLAND
1996
1999
2000
2001
2002 (2)
2003
2004
2016
LAKE PARK

1985
NORTHRIDGE
2017
OVERHOLSER
2002
WINDSOR HILLS
1970
1984
WILEY POST
1977
1978
1981
1990
1991
1998
2001
2007
MIDDLE SCHOOLS
CENTRAL / CAPPS
1958 (2)
1960
1965(3)
1966(3)
1969(2)
1970
1971
1972
1973(3)
1974(3)
1975(4)
1976 (2)
1977(2)
1978(3)
1979(4)
1980(4)
1981(2)
1982(2)
1983
1984(2)
1985(4)
1986
1987
1989
1990
1991
1992
1993
1994
1995(2)
1996
1997(2)
1998(2)
1999(2)
2000(3)
2001
2002
2007
2009
2010
2011(4)
2012(5)
HEFNER
1967
1980
1982
1983
1984
1985
1989
1992 (2)
1996
2004(2)
2005
2006
2007
2008
MAYFIELD
1984
1978
1991
WESTERN OAKS MIDDLE SCHOOL
1968(3)
1969(2)
1980
1981
1983 (3)
1984
1985
1989
1991
1993
1997
1998
1999 (6)
2005
2007
2008
2009
2014
HIGH SCHOOLS
PCHS
1924
1938 (2)
1939
1940(2)
1941 (2)
1942
1944(4)
1945 (2)
1946 (2)
1947 (2)
1948
1949
1950
1951(2)
1953(2)
1954
1955 (3)
1956 (4)
1957
1958
1959
1960 (5)
1961(2)
1962(3)
1963(2)
1964
1965
1966(2)
1967(4)
1968(2)
1969(2)
1970 (4)
1971 (4)
1973 (3)
1974 (3)
1975 (4)
1976 (6)
1977(4)
1978 (11)
1979 (7)
1980 (2)
1981 (9)
1982
1983 (10)
1984 (25) (case in back room)
1985 (7)
1986 (5)
1987 (3)
1988
1989
1990(3)
1991 (2)
1993 (1)
1994
1995
1996
2003
2010
PCN
1980 (4)
1981 (3)
1982 (5)
1983 (5)
1984 (7)
1985 (4) 1987(3)
1988
1989(2)
1990(3)
1991(3)
1992
1994
1995
1996
1997
2001
2003
2007
2008 (2)
2009
2010 (2)
2014
PCW
1970(3)
1971(6)
1972(4)
1973
1976
1977 (2)
1978
1979 (5)
1980 (2)
1981 (6)
1982
1983 (3)
1984(2)
1985 (4)
1986(3)
1987
1988
1989(2)
1990(3)
1991(3)
1992 (3)
1994
1995
1997
1998
1999(3)
2000(3)
2001
2002 (3)
2003
2004
2005(2)
2006
2007 (5)
2008
2009
2011
2013
2015(2)
2016